#1 - Thanks Music Mecca
"The band succeeds in creating a stand-out sonic experience that could only warrant number one."
It's Psychedelic Baby - Review/Interview
"The 9-song journey recalls a range of sounds, from early Roxy Music and Fairport Convention to John Cale, Lloyd Cole & The Commotions, and even Elton John. "
4/14 - Rock and Roll Globe Premiers "Bag of Blood"
"Bag of Blood is a quintessential taste of how Strange Parade roll, anchored by masterful songwriting that tips its hat to both Nick Cave and Jarvis Cocker."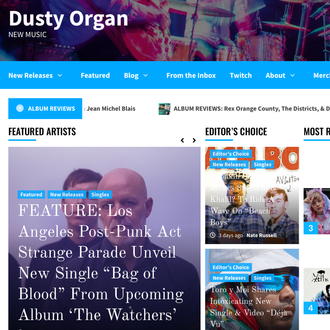 4/15 - Dusty Organ features "Bag of Blood"
"With the group's chemistry and mutual appreciation for various styles at the helm of their work, the band merge '80s post-punk and art-rock with timeless psychedelic details"
"UNDER" from 'Between us all" LP